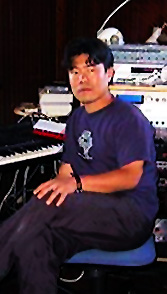 one of Japan's most eccentric electronic geniuses
--John Zorn
A native of Tokyo, Japan, Tetsu Inoue is an ambient composer whose solo and collaborative works with the likes of Pete Namlook, Jonah Sharp, and Atom Heart are important documents of new school ambient and experimental electronic. Inoue began playing music in high school, starting on guitar in pop/rock cover bands. He began experimenting with synthesizers and early monophonic sequencers, inspired by the fusion of pop, psychedelic rock, and experimental electronic pioneered by groups like Pink Floyd, Tomita, and particularly Yellow Magic Orchestra, and by the mid-'80s was scoring for ballet and small dance groups.

Tetsu Inoue moved to New York around 1986, securing an apartment before heading for an extended stay in San Francisco, where he played guitar in karaoke bands and began working with SF-based composer Naut Humon. He returned to New York soon after, continuing to amass demo material, and headed for Germany in the late '80s, where he met Uwe Schmidt (Atom Heart) and Pete Namlook.
Although ostensibly on vacation, Inoue recorded his first work for release while in Frankfurt (Station Rose, a collaboration with Schmidt, on Cyclotron) and, upon his return to New York, began working with Namlook on a number of different projects. Although dabbling in dance music styles such as techno and trance during this period, he was moving increasingly toward strictly ambient composition, and Namlook's noted Fax label would release several of his albums through the early to mid-'90s. Most of his best solo and collaborative works appear there, including 2350 Broadway and Shades of Orion with Namlook, Electro Harmonix with Jonah Sharp, and Ambiant Otaku, Organic Cloud, and Slow and Low as a solo artist. His mature aesthetic centers around a fusion of by turns haunting and contemplative soundscapes layered with heavily treated samples and field source materials, and occasional, usually sparse percussion. It's most elegantly stated on such works as MU (with Atom Heart as Masters of Psychedelic Ambiance) and World Receiver. -- Sean Cooper, All-Music Guide