December, 2007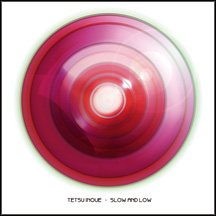 Pete Namlook has been doing a fantastic job in making available long out-of-print gems from Faxlabel's early years with the recent reissues on Ambient World label. The latest one completes Inoue's early Fax solo trilogy with the gently-grinding ambient milestone 'Slow and Low'. Owing as much to musique concrete as it does to field recording or analog ambient, this one took me the longest to fully appreciate and yet it delivers the biggest deep listening payoff possibly of the whole trilogy. Get it from the Fax-USA headquarters Ear-Rational Music, or head to Namlook's page for the press release and links to the downloadable version.

Tetsu Inoue: Slow and Low (AW047)
Man Made Heaven (10:49)
Static Soul (12:59)
Automatic Motion (9:16)
Slow And Low (13:16)
Polychrome Chant (7:04)
Speculative Vision (10:05)

May, 2007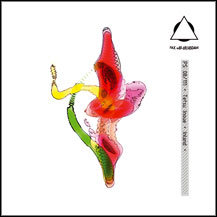 Tetsu's latest offering is called Inland and it's out now on Pete Namlook's Faxlabel. This is a strong follow-up to Yolo, and Inoue's first solo appearance on Fax since 1995's Slow & Low. With only 500 copies going around, it's best to snap one up quickly before they vanish. Get it from the Fax-USA headquarters Ear-Rational Music, or head to the Fax page for the press release and links to online shops.

Tetsu Inoue: Inland (PS08/111)
Mini Moon (6.22)
Tree and Me (5.10)
Zen (5.33)
Kaze (7.26)
Peak (6.32)
Symphony H20 (6.53)
Wabi (7.05)
Overlook (12.12)

January, 2007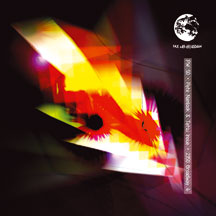 Get ready, the day is upon us. On January 15th, Namlook releases 2350 Broadway 4 to the world. That's over 10 days away from today, but already pre-orders have pushed it into the number one slot over at Ear-Rational Music, the Faxlabel USA distribution HQ. This one is going to be a big release, and it follows a trend established on Fax earlier this year by including both a DTS 5.1 Surround CD and a regular stereo CD in the jewel case. Experience 2350 Broadway as you've never heard it before, in a truly immersive sound environment calibrated by Namlook himself! For a taste, check out the Ethereal Being track on Namlook's MySpace page.

The press release:
Pete Namlook & Tetsu Inoue - 2350 Broadway 4 [pw50]

It was 1995 when the predecessor of this CD was released. Since then Tetsu Inoue and Pete Namlook developed their way to create music to a different stage. Again the combination of their styles is unique. Meditative, beatless and deep - sound opium. You can hear the individuals as well as the whole soundscapes that evolves and starts a life of their own.
For the listener this music is perfect for total relaxation and mind traveling.

CD Tracks:
Hear the Sun 12.14
Sustained Energy 9.34
Extended Wave 10.24
Ethereal Being 6.59
Take the Sky 11.47
Two Lives 10.29

Sound Opium - Music for Relaxation and Mind Traveling


November, 2006

Things have been quiet here for most of this year. But as we wait patiently for the release of 2350 Broadway 4, here's something to lift holiday spirits. Infraction Records has been quietly planning a 10 year anniversary reissue of Tetsu Inoue's World Receiver. Originally released by the now-defunct label Instinct Ambient during the mid-90's ambient heyday, this album stands the test of time and sounds as fresh and relevant as it did the day it came out. Word has it that the CD case will be a 6-panel deluxe package, an appropriately lavish box for an exquisite album. If you missed it first time around, be sure to pick this issue up as it is likely destined to become another collector's item in Inoue's discography. If you're interested, check out the World Receiver page for soundclips graciously hosted by Sleepbot.


December, 2005


They say that when it rains, it pours. Immediately following the release of Mr Inoue's latest solo album, Yolo, will be a collaboration effort with German Faxlabel head, Pete Namlook. This remarkable artist has released close to 350 records on his private imprint with no commercial promotion efforts. Indeed, a fierce collective of Faxheads follow the release schedule closely, and engage in lively discussions on the Faxlist about the particulars of each CD. Many of the fans have been listening to this music for over a decade. So it is with great pleasure to reveal here that production for volume four in the venerable 2350 Broadway series is now underway. The early installments in this series helped form the backbone of the label, and fetch some disturbingly high prices on auction sites, many significantly higher than this list, compiled in 2002. A obsessive fanbase with a fanatical predilection for hunting down as many of the CDs as possible, paired with a limited edition release policy results in many of the recordings selling out quickly after the release date. First in batches of 500, 1000, and 2000, Fax eventually issued editions of 3000 to accomodate the growing population of collectors. Before 2350 Broadway 4 is released, it might be a good idea to snap up one of the last remaining copies of the 2350 Broadway MP3 CD, which compiles all five and a half hours of the series that leads up to the current collaboration. Check the 2003 News section for more details on this special long-playing CD, and ready yourself for the imminent release of volume #4!
November, 2005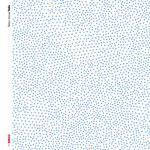 Ladies and gentlemen, the moment we've been waiting for is near. On November 28th Tetsu Inoue will release his 9th solo album on DiN. Read the Press Release for further details. It's been some time since the last solo full length album from Tetsu, and this release is sure to please. As a listener who has followed his work closely for a decade, I feel this is one of his strongest releases yet, as it strikes a delicate balance between modern digital noise experiments and his classic analog ambient work from the 90s. Get ready, this is the one! In the meantime, you can listen to some soundclips:

Play O shape - ( edit 03'07 )
Play remote - ( edit 03'43 )
Play particular moments - ( edit 03'51 )
Play tane - ( edit 02'41 )

February, 2005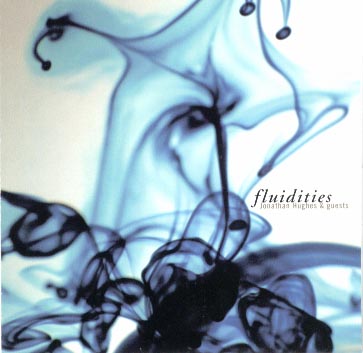 Check out Jonathan Hughes & Guests "Fluidities" album from The Foundry. Pulling together the work of over a dozen artists, this remarkable 2xCD set puts an interesting spin on the presentation of collaborative work. Find complete details on the Fluidities page at the Foundry, but here's the general idea: Play both CDs at the same time, on shuffle mode, in a favorite programmed sequence, or in the order they are presented. If you've got one or both CD players on random play, this compilation sounds different every time you hear it. To boot, the tracklist showcases recent work from some of the key players in today's atmospheric electronic style: High Skies (aka Gas/em:t), ATOI, Ian Boddy, and our very own Tetsu Inoue. I was pleasantly surprised to hear Tetsu returning somewhat to a more ambient approach in his production. It's nothing like his work on Tzadik, yet the piece is still informed by the sound sculpting techniques demonstrated on those albums. Head over to the Foundry and pick up a copy to see for yourself!
January 14, 2004


Happy New Year, and with it comes a new release:
Tetsu Inoue + Andrew Deutsch: Installation Sound
"Installation Sound documents Tetsu Inoue's sound installations from around the world. Included are installation works for Diapason Gallery, New York, NY, Engine 27, New York, NY, and Castello di Rivoli Museum Italy 2003. In addition, there are several collaborative tracks by Tetsu Inoue and Andrew Deutsch which exemplify what might be called 'isolated energy' compositions. Overall, this work exhibits beautiful combinations of sounds scattered through space and time focused through the extraordinary compositional lens of Tetsu Inoue. Graphic inserts, (designed, printed on high quality paper and hand assembled by Deutsch at the Institute for Electronic Arts), includes digital photography by Tetsu Inoue with treatments and image processing by Andrew Deutsch."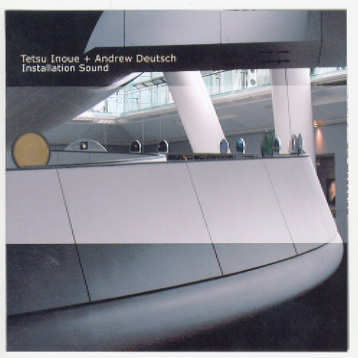 Some of the pieces on the CD are stereo versions of 8 and 16 channel surround sound installations, and offer a sonic-summary of the exhibits. This production was published by the the Institute for Electronic Art in Alfred, NY and produced with additional support from The New York State Council on the Arts. I have added an entry for this release in the discography section, you can view this info by jumping straight to the collaboration section of the discography by clicking here: Installation Sound