Mo Wax Excursions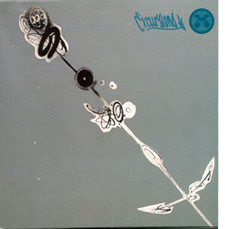 A project in which Mark Broom, Dave Hill, Steve Pickton and Peter Ford were involved. This was a series of ten twelve inches which appeared in 1995 / 1996 and consisted of five 'Excursions in Techno' (also called 'green excursions'), and five 'Excursions in Hip Hop' ('grey excursions'). The third release of each sub-series came with a box to put all the records in. There's also been a CD sampler with a bonus mix CD, with Mark Broom on the decks. The idea of the series was to move away from Techno purism and showing Techno from a serious, 'trippy' side.
Apart from his release on this sub-label of MoWax together with Dave Hill as the Midnight Funk Association (Mo Wax Excursions MWEX006), Mark also did a downtempo remix of Patrick Pulsinger / Erdem Tunakan (Cheap) masterpiece 'Claire' (Mo Wax Excursions MWEX002) and a 'techno jazz' mix of David Caron's 'Fantasy on a fantasy'(Mo Wax Excursions MWEX004) which had originally been released on Eevo Lute. The MFA release has got slow, melodic electro-jazz with trippy beats, combined with powerful technoid sounds from the UXB studio.
Stasis (Steve Pickton, see menu on he left), did the fourth 'green excursion' (MWEX 008), and the fifth one (MWEX010) was produced by Peter Ford as Twig Bud. MWEX010 features the tracks 'Harry's Law', 'Day off' and 'Nine o'clock service'. They show him from his most jazzy side, especially 'Day off' is very soulful.
You'll find a tracklisting on this GREAT unofficial Mo Wax site on Spoonweb. By the way, if you can't get the vinyl anymore, check the CD sampler, it's absolutely worth it.