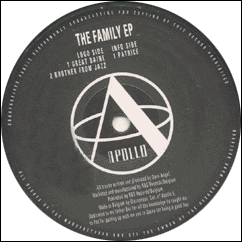 Catalog NO: Apollo 5
Title:The Family Ep
Artist:Dave Angel
Format: 12"
Tracks:
Great Daine

Brother from jazz

Patrice


All tracks written and produced by Dave Angel.
"Dedicated to my father Baz for all the knowledge he taught me. To Pat for putting up with me and to Daine for being a good boy."