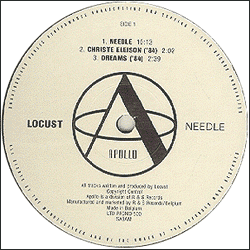 Catalog NO: promo
Title: Needle
Artist: Locust
Format:Promo 12" Only
Tracks:

Needle

Christe Eleison(84)

Dreams(84)

Air Primary

Root (Rec. live at The Garage - 12 Dec. '93)

Note: Limited edition (500 copies only) of older, unreleased Locust material used in a promotion offer. To get a copy, you needed to obtain a token from NME or Melody Maker and exchange it at one of the shops listed in the advert. Some of the tracks were re-compiled on the "Natural Composite" LP (AMB 4935).