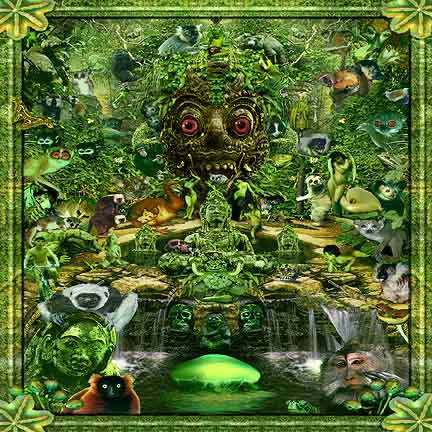 Intonarumori Cover copyright 1998 by James Koehnline
Upcoming Releases and Live Performances From Bill Laswell
Material: Intonarumori. Bass-grooved hip-hop with vocals by Kool Keith, Lori Carson, Ahlill, Blue, and the Ghetto Prophets. Coming in 1999 on Axiom.
Robert Musso: Transonic Evolution. Jazz hybrids with Bob Musso producing, writing and playing guitar, Dave Liebman and Bayard Lancaster on sax and flute, Bernie Worrell and Karl Berg on keyboards, Charlie Burnham on violin, Aiyb on percussion, Bill on bass, and Lance Carter on drums. Coming in 1999.
Pharoah Sanders: Save Our Children. With William Henderson, Bernie Worrell, Tony Cedras, Jeff Bova, Alex Blake, Zakir Hussain, Trilok Gurtu, Abdou Mboup, Abiodun Oyewole, and Asante. Coming on Verve in February 1999.
Third Rail. More swamp funk from James Blood Ulmer with Jerome Brailey, Amina Claudine Myers, Bernie Worrell, and Bill Laswell. Coming on Antilles in 1999.
Organic Mechanix. Ambient tracks from Graham Haynes, Aaron Lazansky (aka Spaze Crafte, Manuel Oquendo (aka Acustyk), and a guest appearance by Michael Floershinger (aka The Sonik Professa). Coming on Ion.
Kodo: Remixes. Remixes from the Laswell-recorded Japanese drum ensemble. Coming on Tri-Star.
Excavation: Beat Alchemy. Hip/Trip-Hop compilation of new tracks by DJ Disk, Skiz Fernando, Sassan, and others. Coming on Inner Rhythmic.
Blind Willie Johnson: Remixes. The darkest of the blues, rendered into ambient form. Coming on Shanachie.
Havana Mood and Rum and Bass. Music from Cuba and remixed music from Cuba. This will not be the last tango. Coming on APC.
---