---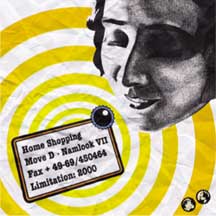 "Move D • Namlook VII - Home Shopping"
(Pete Namlook & David Moufang)
Pete and David are taking it to the next level. Recording "Home Shopping" Live at the reSource studio in Heidelberg, Pete took some very special equipment with him and combined them with the magic programming of Abletons "LIVE" from David. This release is electronic music for the mind.
As always it is music that lives from the composers interacting with each other in perfect synchronization and includes elements that range from Chill-Out, Techno, Experimental & Jazzy Style.
It is a further part of the project line of "sit back, relax and let your mind travel"
CD tracks:
Bad Hair Day 12.34
Nanotube 12.49
Flexdollars 8.08
Arm Candy 9.40
Mouse Potatoes 14.51
Detox 9.32
Techno-Jazz, Chill-Out and Ambient on the next level