---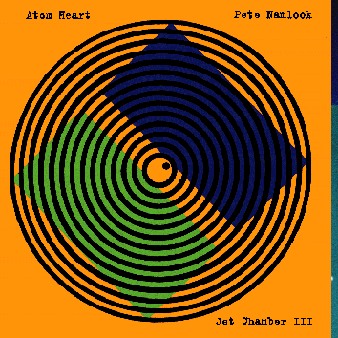 Jet Chamber III
(Pete Namlook & Atom Heart)
Three of a perfect pair. Within three days, Atom Heart and P.N. finished this CD. Mostly recorded live at Pete's Klanglabor, this record is outstanding with its high "Drums & More" (FAX version of Drums & Bass) impact. Pete played a lot of live guitar and octave bass while Atom Heart went crazy with some beats. Funky Synths and jazzy E-Piano completed the outstanding mixture of styles and sounds on this CD.

As on numerous others works, humour had its place: on the more Ambient tracks "Ultra Koran" and "Beel", Pete created an artificial Muezzin. Atom Heart said, "...I see him standing right in front of me..." Sometimes a good machine enhances creativity and lets you do whatever you have in mind. Pete is obviously obsessed by his "Nord Lead" Synthesizer. On "Quite My Chords", it sounds like a jam session of an interactive man-machine drummer with an "only human sentimental" guitar player. No such interactive collaboration has been heard so far...

| | | |
| --- | --- | --- |
| 1 | Rub Out | 10.47 |
| 2 | Dub In | 21.19 |
| 3 | Ultra Koran | 3.10 |
| 4 | Quite My Chords | 24.19 |
| 5 | Beel | 2.44 |

FUSION of Dub, Trip-Hop, Drums & More, Ambient and Jazz - this CD is an outstanding recording from two of the most promising producers in electronic music.