---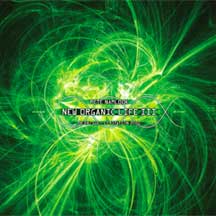 New Organic Life III
(Pete Namlook)
After Pete's first CD solely consisting of molecular sized sound bytes, it took just a blink of an eye for the Frankfurt based radio station HR 2 (cultural program of the "Hessischer Rundfunk") to ask for a Granular Synthesis session by Pete Namlook.
This session received a lot of positive feedback so there was a request for more. This third session had been broadcasted via terrestrial antenna, cable and sattelite on the 27th of September 2002. Instead of asking for a high fee we were more interested in releasing this music on CD and to present to you the third coming of Pete's monsters in sound. This time incorporating bits of environmental sound and Analog Synthesis.
This experimental music achieves full posession of your mind.. we recommend to sit/lie in a meditation tank/bathtub and to listen to the evolving organic energy at a medium to high volume for 58 minutes.
CD tracks:
1 Pixelconference 7.35
2 Nocturnal Flight Environment 5.59
3 Grainology 1.53
4 Organic Engine 11.28
5 Interview with New and Native Organic Life 13.44
6 Russia's NOL in Space 12.17
7 Grain City 5.06
New Organic Life in Music - Part 3