---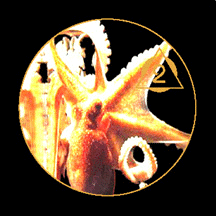 Octopus 2
(Charles Uzzell-Edwards)
This project was an attempt...
to weave expressionist rhythms from 'environmental sounds' and accident, to put what I have learnt from DJing many styles of music back into my own music, to build musical impressions of landscapes (electronic recreation of experiences), to make something with an interesting beat that you could dance/chill to, to develop my keyboard skills on the black keys, to get all my keyboards and drum machines to play in the same tempo, to create something that was eclectic enough to avoid being labelled or pigeonholed, to promote the world of the octopus and the deep. It has been a safe place to hide from the world and it has become an entire world within a world for me to play in.
1
Thankfully, Coming from Upper
Cwmtwrch it Doesn't Apply
7.10
2
A Time of Running (Celtic)
1.26
3
Emotional Rescue
1.53
4
Steal My Fathers Painting
Would You? Take That!
12.33
5
Virgo (September 3rd 1968)
8.31
6
Sedagive? Give Him a 'Sedagive'?!!
4.28
7
Technology (We Represent)
4.28
8
Arizona Fountain
1.59
9
Freshie Pow Pow
8.36
10
Sunset Song
(Milennium Party in Brazil)
8.38
11
Point Reyes Anthem
17.04
Just when you thought it was safe to go back into the deep......