---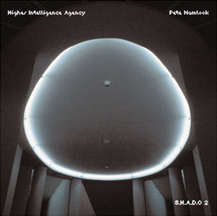 Higher Intelligence Agency / Pete Namlook - "S.H.A.D.O. 2"
(Pete Namlook & Bobby Bird)
A long awaited follow-up album. Bobby Bird and Pete Namlook joined forces once more to create a music between innovative beats and melodic soundscapes that describe a futuristic world on its own.
The combination of different styles including Elektro, Ambient-EnvironMental, late Romantic and Trance formed a new style back in 1997 and finds an innovative continuation in 1999. The Society for UFO Sightings (S.U.S) in Sidney-Australia even allowed Bobby and Peter to use their U.D.S (UFO Detection System) for this release as you can hear on track #4.
CD Tracks:
1
Countless
16.26
2
Inner Sense
12.15
3
Begend
15.42
4
UFO Detection System
10.31
(Approach - Intercept - Verify)
Elektronik Fusion Music that describes a futuristic world on its own.