---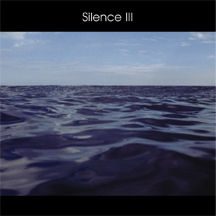 Silence III
(Pete Namlook)
"Silence I" was the beginning of German Ambient-CDs (in the techno environment) back in 1992. At that time nobody wanted to release this music... so we had to take the risk. Since then a lot of Ambient and Chill-Out products have been released. The biggest part came from FAX.
The music on FAX evolved and quite some innovations were born on this label. Pete Namlook discontinued working with musical advisors and focused more on the work with other musicians in the first place. The -Silence- project was one of the most successful on FAX and so a continuation of this recording series was due for quite a while. Now, after the 5 years anniversary, it was time to look back to the beginning and as on FAX, everything works in circles so we decided to start again with a follow up of our first CD ever released.
In the tradition of this .. Silence III is an Ambient / chill-out CD with a high impact of environmental, Persian and classical music. Sound-monuments/Images include -A Journey through the desert- and -The bottom of the ocean- and presents to you the soundtrack to your own imagination.
| | | |
| --- | --- | --- |
| 1 | Into the Desert | 8.30 |
| 2 | Mirage | 8.27 |
| 3 | A Ship on a Sea of Sand | 14.38 |
| 4 | Lost City | 3.20 |
| 5 | Stars | 5.08 |
| 6 | The Bottom of the Ocean | 10.57 |
| 7 | Dream Time | 9.28 |
From this moment on erase all thoughts from your mind...close your eyes and relax