---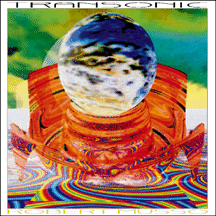 Transonic - Downstream Illusion
(Robert Musso) Bass: Bill Laswell
Welcome to the world of Transonic. Transonic is a place, a time, a sound whose goal is to transcend normal boundaries and illuminate a futuristic sounic universe. It's ingredients are ambience with a beat, world music and sonic found sounds that are all manipulated and effected to merge into a final thought. Transonic realizes this energy
Its conceptual originator Robert Musso is world known for his ground breaking work in all aspects of the music and entertainment industry. Robert's recording credits include over 2000 titles that span the last fifteen years and include a multitude of different styles from all corners of the musical world. The only other performer on Downstream Illusion is Bill Laswell . Bill is considered the most sought after producer and bass player amoung all high integrity artists throughout the world. All other sounds on Transonic are loops, samples or found sounds that have been altered to achieve the desired effect and timbre.
Some who listen to Transonic are hypnotized by its meditative sonic qualitites and subtleties that appear to alter the fabric of time and space. Some are attracted to its unique combining of styles and genres. Others simply find it easy to listen to. Most are amazed at the amount of sounds they have never heard before.
Transonic is a journey you must experience, it's complex yet simple, dense yet clear. Transonic has been described as ambient, trance, ambient-beat influenced futuristic world music.
The original summer 1994 limited FAX release of Transonic was right there... at the beginning of Trip-Hop and sold out immediately. Melody Maker wrote, "Already hailed by some as the best release on Namlook's FAX this year, 'Transonic' comes pretty damn close. Part bass thwacked dubby depth charging glory (courtesy of cool-hand Bill Laswell), part shamanic transglobal space mantras, and a whole heap of herbtastic horizontal vibes, this is one big globe sucking spliff."
Open your mind and enjoy the ride!