RI049 DROPSHADOW DISEASE (CD)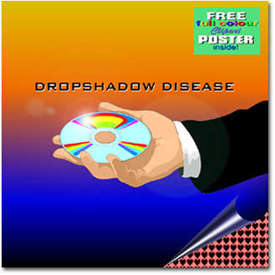 DROPSHADOW DISEASE
atom heart always keeps his promises. first of all you will really get a full colour clipart poster (as the sticker on the cover says) when purchasing this cd. second, here is the neo-pop album you were waiting for. the 11 songs are dealing in rather interestingšs typical manner with items not all of you may know about...but this really doesnšt matter. dropshadow disease is about photoshop plug-inšs, typographies and certain experiences connected with the use and abuse of what some people call design. dropshadow disease is a blend out of eary melodies, catchy rhythms, funky basslines, advanced editing, unheard textures and sing-along lyrics performed by some of the most skilled voices of applešs macintalk. dropshadow disease translates the sound of the previous r.i. releases schnittstelle and naturalist into a neo-pop surrounding. from loungy softpop tunes like kpt, or pop/jazz fusions like dingbats, via abstract titles such as cut 'N' paste or duplex to little cute arrangements like fototienda (sung in spanish). AN ALBUM YOUR CHILDREN WILL STILL FIND STRANGE BUT FASCINATING!
01. DROPSHADOW DISEASE
02. PING PONG (TRUE TYPE)
03. FARBE/BEISPIEL/EINRASTEN
04. DUPLEX (KURVE, NICHT MODUS)
05. BOUNCING INITITALS
06. FOTOTIENDA
07. KPT V. 1.0
08. KPT V. 1.1
09. CUT 'N' PASTE
10. DINGBATS
11. PUSHTHE LITTLE DAISIES...