RI050 Real Intelligence III (CD)
Rather Interesting Compilation 1997/8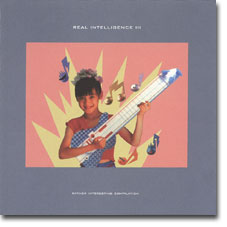 Rather Interesting presents their third compilation entitled Real Intelligence III. This cd contains a selection of titles taken from the 1997/98 R.I. releases and represents the development of musical language of one of the world's electronic music innovators. Starting with Dandy Jack's "Tubercool" (by the way, the only title on this cd in which Atom Heart was not involved) via the latino versus e-z listening projects Lisa Carbon and Señor Coconut, to the pop meets jazz mutations from Fonosandwich and The Roger Tubesound Ensemble.
The second half of this compilation leads us through the editing infernos of Schnittstelle and Naturalist to finally encounter RI's version of neo-pop for the next millenium Dropshadow Disease. The album closes with the two exclusive bonus titles, "Harddisk Rock (Don't Stop)" (a sort of electro update meets Festplatte) and "Real Intelligence". Although titles from 8 different releases are featured on Real Intelligence III, one will be surprised about the coherent and smooth flow of the album, leading from one image to the next, stepping forward and leaving all known categories behind... but remember: only stupid people call it intelligent!
| | |
| --- | --- |
| 01. tubercool (edit) | introducing the plastic woman, dandy jacks second release on RI |
| 02. magic sofa | taken from lisa carbons chartbreaker album 'trio de janeiro' |
| 03. el coco baile | artista invitado desconocido tocando un solo de bateria absurdo |
| 04. they call it donut... | number on in RI's ..and dont forget to brush your teeth... series |
| 05. wurlitzer price | excursions into digital jazz. from the album pentatonic surprise |
| 06. sonnenstudio | scientific freestyle, leaving the loop behind, interface progress |
| 07. naturalist #12 | besides many other things, naturalist is a coffee sweetener |
| 08. fotodienda | aesthetics first ! featuring catalina and carlos (macintalk),neo pop |
| 09. harddisk rock | design sampling by linger decoree, mastered digitally at mira musica |
| 10. real intelligence | visit us at http://www.hyperreal.org/music/labels/rather_interesting/ |