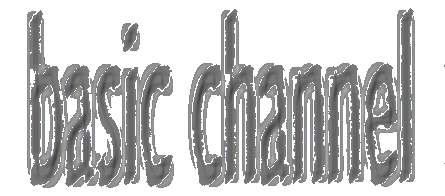 ---
A mysterious outfit from Berlin, Germany but strongly linked to Detroit, MI, USA. The music is actually released domestically in the USA. It is also associated with the enigmatic nameless label that released Maurizio. They have worked with such Detroiters as Jeff Mills [first two records], Carl Craig, Chez, Trent and Shake.

Sometime in 1995 after the CD Compilation came out, the Basic Channel label as we know it ended. There has been several "no-label" Maurizio releases since then and a CD compilation of the "M" records so hopefully these will continue. In the meantime, check out a label out of Germany with a similar sound called Chain Reaction for "friends and family" of Basic Channel. The first release was Scion - Emerge and the second was a 7 track Various Artists collection.

Enjoy.
---


Basic Channel Discography

BC001   Cyrus
        Enforcement (Produced by Cyrus)
        Mills Mix
        Recall


BC002   Phylyps trak
        Phylyps base
        Axis


BC003   Vainquer (Rmx)
        Lyot rmx
        Phylyps rmx


BC004   Quadrant 1.1
        I
        II
        III
        IIII


BC005   Cyrus 
        Inversion
        Presence


BC006   Quadrant Dub 1
        Quadrant Dub II


BC007   Octagon
        Octaedre


BC008   Radiance
        I
        II
        III


BC009   Phylyps - Trak II
        I
        II


Compilation CD (in the real correct order!)

Quadrant  Q Loop                        5.26
          E2E4 Basic Reshape            6.06
          Mutism                        5.55
Quadrant  Quadrant Dub 1 (Edit)         6.56
Radiance  Radiance II (Edit)            9.18
Lyot      Vainquer (Lyot Remix Edit)    6.28
Cyrus     Presence (Edit)               8.17
Quadrant  Quadrant 1.1 (Edit)           1.02
Quadrant  Quadrant 1.2                  4.56
Radiance  Radiance I                    7.55
Radiance  Radiance III (Edit)           3.47

Total 66:24



---



No Label Discography 

Maurizio - Ploy

Vainquer

Maurizio - Domina
           Maurizio Mix
           Carl Craig's Mind Mix

Maurizio - M4

Maurizio - M4.5

Maurizio - M5

Maurizio - M6

Maurizio - M7

CD Compilation

1.  M6 (edit)
2.  M7 (edit)
3.  M4 (original 12" mix)
4.  M5 (edit)
5.  Domina (Maurizio mix)
6.  M4 (edit)
7.  M7 (unreleased mix)
8.  M4.5 (edit)
9.  M6 (edit)



---



Mainstreet Discography

Round One - I'm Your Brother

Round Two - New Day
            A: Club Vocal Mix
               Edit
            B: Dub


---
updated 24 March 1997
Many thanks to Dave Walker, George M. Smiley, Chris.Hilker and Neil Moore for updates to the discography.

                      ___
 / /  /  /  /   /  _  __/   will@panix.com
(_/__/  /  (__ (__  ___/    http://www.panix.com/~will/