Recycle or Die
Annotated discography by Mike Brown and Samu Mielonen, with thanks to Martin Palamarz and Wolf Kemker.
Last update: 29 Sep 1999
Recycle or Die was set up in 1992 as a sister label to Eye Q Productions (to which Harthouse is also a sister label) to publish contemporary electronic mind music. According to the label, ROD is a further development of the traditional Berlin School of electronic music (e.g. Klaus Schulze) and classic ambient music (e.g. Eno). They want to put out records of musical substance rather than just "endless synthie drivel, combined with silly nature samples."
Recycle or Die as a sublabel of Eye Q is no longer in existence, due to the closure of Eye Q in 1997. An explanation of this closure is presented in the following article, translated from German for me by Wolf Kemker:
DIE HARD
Pop with techno beats earns millions, but pure techno dies a slow death. Latest sacrifice: the label of Sven Väth.
The move from Frankfurt to Berlin was celebrated with a glittering opening-party. Eye Q, Harthouse and Recycle Or Die, three labels, which were considered to be the keepers of the hard purity-rule, have moved to the new capitol in early february to participate "the musical trends" of the city, as manager Achim Fehlau said. Left in Frankfurt were the company's "Schallbau Studios", home of the producers Stevie B-Zett, Matthias Hoffmann and "Echo"-winner Ralf Hildenbeutel.
Besides the labels, the Eye Q-distribution for small customers and vinyl-forwarding was run in Berlin. Personnel was hired - designer, general manager, sales manager, product manager and secretaries - and major-partner WEA was looking forward to the many dance-records, which they would promote and distribute. after all WEA was hoping for the label-network to be a powerful partner, who should prove international effectiveness: on January 1st the group was restructured to a holding with chairman Heinz Roth (based in London) and subsidiaries in Los Angeles, London and Berlin.
On June 9th the Berlin subsidiary shut down business unexpected. Achim Fehlau explained to the magazine "Musikwoche" shortly:
"The current situation was not forseeable at the beginning of the year. We had to go bankrupt because our american partner, Eye Q Music Inc., went bust and we didn't get any returns on our investments."
Fehlau is out of reach since this statement, and sales-partner WEA is also wrapped in silence: "As long as our lawyers are negotiating with the label's lawyers, the end of the case is totally open", explained a WEA-man, who prefers to stay unknown.
He won't comment rumours that Harthouse hasn't paid any GEMA fees [GEMA = Germany's RIAA, or so] for months. The reasons for their business problems are more profound: "These labels, which established themselves in the techno-sector and acquired a certain credibility in this scene, are now dying in beauty, because they refused to obey a more commercial approach. I can only afford these playgrounds when i have the sales somewhere else."
After none of the three labels wanted to get involved to produce commercial "music for hairdresser-discos on the flat land" [literal translation; "techno for hillbillies" would be more US], WEA handed over the distribution of both Harthouse and Recycle Or Die to the smaller Rough Trade already last year, because "we have recognized, that they are in better hands there with their very specific approach."
Where techno-star Sven Väth, who released on Eye Q and Harthouse, will feel himself in good hands is totally uncertain. Ingo Marschhäuser, head of the Dance-Promotion at Hamburgs DJ-Pool-Company Public Propaganda, has a consolation for the goatbeard from Frankfurt anyway: "Väth is a pop-star, he won't have to look out long for a new deal." --Peter Wagner
---
Contact addresses (no longer valid):
Recycle or Die / Eye Q
Strahlenbergerstrasse 125 A
63067 Offenbach
M Germany
tel: + 49 69 8297 400
fax: + 49 69 8297 4011
Eye Q Music, Inc.
8756 Holloway Drive
West Hollywood, CA 90069
USA
tel: (310) 657 7241
fax: (310) 657 1019
---
Dominic Woosey: Stray Light (ROD 001)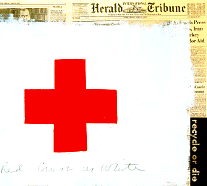 16:00	Stray Dawn, First Light
	16:00	Incubation
	16:04	The Oceans of Infinity
	15:50	Straylightsong

From the sleeve notes: "This Recording is designed to be listened to using headphones at moderately high volume in a darkened room." Sad & a bit dark, but mostly relaxed newage oriented album with touches of Pink Floyd & Oldfield influences (the guitars man, the guitars!). There is no kick drum to be heard on this record and now dub basslines either. Excellent for those melancholic autumn nights. Dominic Woosey has worked on trance projects previously (Neutron 9000). --Samu Mielonen
Hildenbeutel: Looking Beyond (ROD 002)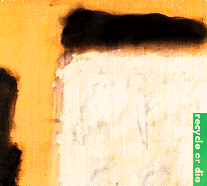 11:06	Looking Beyond
	 7:03	Follow Me
	 9:56	The Journey
	 5:19	Prelude (for the timeless time)
	10:28	Coming Back
	11:02	Inner Peace

Eye Q's magic producer who worked with Sven Väth on his "Accident in Paradise" among other things delivers a concept album of enlightment. "Looking Beyond" is the start of a self-reflection (scary things bounce at you from the speakers). "Follow Me" is like a what happens afterwards (melancholy and soothing sounds). "The Journey" is an attempt to go back and reconstruct the past (pieces of tribal, jazz, church music fly by until notes from the synth take over). "Prelude" is again melancholic, a look on time (beautiful piano composition and clock ticking). "Coming Back" is the return journey after the transformation - a realisation of the state of things (a majestically building strong piece that echoes bits from the starting track). "Inner Peace" is what comes after satori: calmness and understanding (a refreshing guitar riff over joyful synth sounds). But you can forget all about that Zen bullshit, because this stands well on it's on too. Labels finest point to date IMHO. --Samu Mielonen
O. Lieb: Constellation (ROD 003)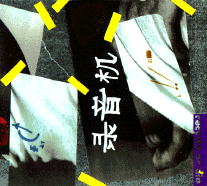 16:36	Dimension X
	18:36	Secret Visitors
	15:02	Spice Diving
	10:52	Subsonic Interference

Oliver Lieb is of the Spicelab (Harthouse's experimental house & trance artist) fame and this is his first ambient project. The album is a mostly analogue noises and simple melodies, although some tracks (Secret Visitors, Subsonic Interferences) are almost like soundscapes. More dance influenced than Dominic W, even though this is virtually beatless too. Good. --Samu Mielonen
Baked Beans: Baked Beans (ROD 004)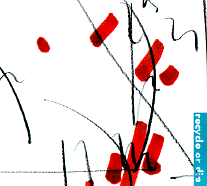 15:13	Bake Daga
	14:36	Desert Bean
	10:49	Heintz 1
	22:37	Has Bean

From the trio of Helmut Zerlett (Unknown Cases), Nicole Tollmann & Gottfried Tollmann comes a combination of dance, jazz, rock & classical influences, even though the result is in the style of the previous ROD releases. More acoustic instruments - namely piano & guitar - are used and there is much less stereo trickery than in the previous albums. The mixing is smooth as velvet and the result is again best appreciated with quality headphones (a bit eclectic this ambient music, isn't it?). I guess one could call this the most classical ROD release to date. --Samu Mielonen
Stevie Be Zet: Archaic Modulation (ROD 005)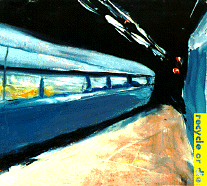 13:16	Man in the Machine
	 5:15	Passion and Hope
	 6:37	Maya & Aliens
	 9:51	African March
	 9:18	Harmonix
	 9:45	The Closed Eye View

Steffen Britzke aka Stevie Be Zet dedicates his album to "Archaic Modulation" More in the same boat with Dominic W than with Baked Beans or Ralf H, stevie boy builds up tracks to a climax and then brings them down again (like "Man in the Machine") and plays around with the effect box a lot. The advantage of shorter tracks is here the variety of in the music itself, although the core of the record is (as the name implies) earthly synth stuff. Another hit album for sleepless nights. Besides this solo project Stevie has produced the Vernon album (on Harthouse) and recently done some remix work. --Samu Mielonen
various: Silk (Eye Q/WEA 4509 94061-2)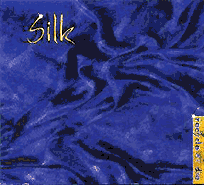 16:36	Oliver Lieb: Dimension X
	11:02	Ralf Hildenbeutel: Inner Peace
	14:36	Baked Beans: Desert Bean
	 6:11	Stevie Be Zet: Passion and Hope
	15:35	Dominic Woosey: The Oceans of Infinity

This compilation was released in 1993 and contains no new material.
#9 Dream: Rhythm and Irrelevance (ROD 006)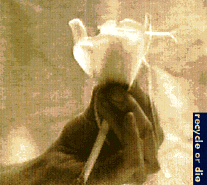 1:46	Canfield (Intro)
	 8:02	Play Garden
	 6:40	The Red of Fire
	 6:45	Summer Offering
	 1:17	Benediction
	11:04	Letter in Three Parts
	14:09	La Lune De Miel
	 1:27	Life at Stormy Point

The duo of Helmut Zerlett and Walter Dahn continue where Be Zet left off. Five rhythmic tracks are divided into two parts with a prelude, an interlude and a postlude. "Play Garden", "The Red of Fire" and "Summer Offering" are a bit catchier and rhythmic than the following long pieces "Letter..." and "La Lune...". As with earlier releases the soundscape is devoid of silly vocal samples and space synthesizer effects. The tracks are soft and in a curious way organic while the feel is very close to "Archaic Modulation" with the added spice of acoustic instruments. At times ("Letter in Three parts") the duo sounds a bit tacky, but that's the price they pay for playing Korg synths I guess :) In "La Lune..." Helmut's signature is so evident that the track might have as well been lifted off f the Baked Beans album. The only Namlookesque synth drone is the ending track - overall the feeling is much more solemn than with Namlook's work. This album is not be anything earth shattering, but deserves it's place in the ROD roster. -- Samu Mielonen
various: A Mission Into Drums (Eye Q BEAT 001)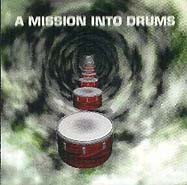 10:30	Stevie Be Zet: The Closed Eye View [remix]
	10:14	Oliver Lieb: Subsonic Interferences [remix]
	 7:12	Stevie Be Zet: Maya and Aliens [remix]
	 8:19	Ralf Hildenbeutel: The Journey [remix]
	[CD, catalog # 4509 96223-2 adds:]
	13:34   Oliver Lieb: Dimension X [remix]
	 ?:??   Ralf Hildenbeutal: Inner Peace [remix]

Trance techno remixes of RoD material.
Baked Beans: Bean Me Up, Scotty! (ROD 007)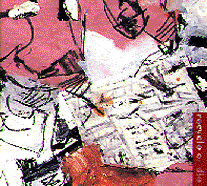 10:45	Jim Bean
	 9:47	Human Bean
	10:24	The Unbearable Lightness of Bean
	 5:41	Soft Bean
	 8:41	James Bean
	 2:17	Echo Bean
	11:21	Heinz Roth Has Bean Sad

Solitaire: Fearless (ROD 008)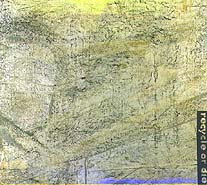 6:35	One Small Step
	 9:59	Tribes
	12:12	Eclipse
	 7:01	Soleil
	19:26	Fearless
	 6:58	Awakening

G. Tollmann & R. Hildenbeutel: TollmanHildenbeutel (ROD 009)

	12:43	Today It's Business
	 7:06	Frogs at Drai's
	10:44	One of My Very Best Friends
	 5:29	Isn't That a Funny Bird?
	 8:23	It's a Hornbill
	 8:58	The Rose from Holloway
	 7:57	Mimi's French Dog
	 9:59	The Flight was Yesterday

Mir: Welcome Spacebrothers (ROD 010)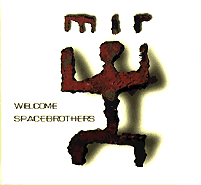 10:54	Welcome Spacebrothers
	 8:23	Under the Milkyway
	 9:00	Unterwasser
	 6:20	Gloria
	13:01	Come
	11:02	Sarashima
	 5:32	Adieu Feres D'Espace

Mir: Under the Milkyway (Eye-Q ROD 9601) [12" single]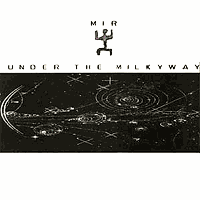 8:23	Under the Milkyway (Album version)
	 8:13	Under the Milkyway (Cygnus X long version)
	 3:40	Under the Milkyway (12 BPM mix)
	 8:41	Under the Milkyway (Space Ride mix)
	 4:45	Under the Milkyway (E.H.R. mix)

various: Backlash - The Recycle or Die Compilation (ROD 011)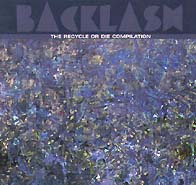 6:34	Ralf Hildenbeutel: Citation Collection
	 6:16	Stevie B-Zet: Befool
	 6:30	Mir: From Afar
	 5:31	Solitaire: The Moon and the Sun
	10:06	Mir: Under the Milkyway (Elektronauten featuring Noelle Remix)
	 6:01	#9 Dream: La Lune de Miel (Kraut as Kraut Can Remix)
	 6:28	Tollman/Hildenbeutel: Isn't That a Funny Bird (Alter Ego Remix)
	 5:56	Stevie B-Zet: Jazzie (Robert Gorl Remix)
	 7:30	Ralf Hildenbeutel: Inner Peace (Out in the Fields Mix)
	 6:02	Tollmann/Hildenbeutel: Mimi's French Dog (Taylor Deupree's Mix)

various: Recycle or Die Compilation (ROD/Eye Q ROM WOM)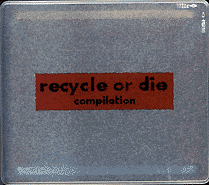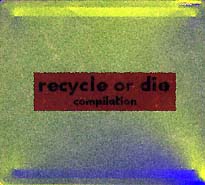 7:47	Stevie B-Zet: Jazzy
	 5:34	Tollmann/Hildenbeutel: Isn't That a Funny Bird?
	 6:28	Solitaire: One Small Step...
	10:36	Baked Beans: The Unbearable Lightness of Bean
	11:04	#9 Dream: Letter in Three Parts

---
In the USA, a very short-lived label released Recycle or Die: Electronic Mind Music (Planet Earth PS0108-2), containing tracks from each of the first six ROD releases:
Hildenbeutel - "Follow Me"
Hildenbeutel - "Coming Back"
#9 Dream - "Summer Offering"
Baked Beans - "Heintz 1"
Dominic Woosey - "Stray Dawn, First Light"
O. Lieb - "Spice Diving"
Stevie Be Zet - "Closed Eye View"
When Planet Earth folded, Eye Q decided the time was right to open a US office. For a brief time (1995) Eye Q and Harthouse releases were readily available in the USA at affordable prices. Eye Q closed their American office some time later.