WARPLP6 Details
---
WARPLP6 Artificial Intelligence
WARPLP6 was originally released in August of 1992.
The philosophy states that Artificial Intelligence is for long journeys quiet nights and club drowsy dawns. Listen with an open mind... It is this philosophy that made, sold and continues to enhance AI's global status. It was the first in what Warp called it's AI series. The compilation contains many highly reguarded artists who, mainly for contractual reasons, used pseudonyms for this release. B12 appear under their commonly used "Musicology" name, Black Dog appear as "I.A.O", The Aphex Twin appears as "The Dice Man", Ritchie Hawtin appears as UP! and The Orb appear as "Dr Alex Peterson". The Album was critically acclaimed and led to solo LP's by EVERY contributor except Dr Alex Peterson.



B12 were asked to create and LP which later evolved into Electro Soma.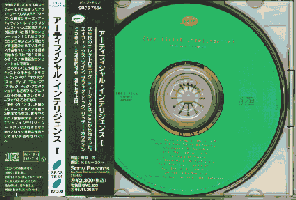 Artificial Intellgence was a voice that conveyed thoughts and feelings that were being evolved by the artists for many years before the LP was released. AI was 'simply' the media by which the world was made aware of "Electronic Listening Music". The world is now well voiced in the philosophy and as a result Artificial Intelignce has been domestically released in over 12 countries, most recently Japan.







The.sleeve.notes.contained.questions asked.to.each.artist,.a.Japaneese.version is.diplayed.to.the.left.

B12's.answers.were.:-



Q Why did you contribute to (A.I)?
A Cos you asked us!
Q Earliest Influences?
A Ultrvox, Gary Numan, Howard Jones
Q Recent Influence / Inspiration
A Brad Fiedal
Q 5 Most influential electronic labels.
A Kling Klang,
-- Transmat,
-- Retroactive,
-- Warp,
-- +8.
Q Top 5 electronic tracks.
A Wanderer - Model 500,
-- Musique Non Stop(remix) - Kraftwerk,
-- Feel Surreal - Rhythim is Rhythim,
-- Night Drive Thru' Babylon - Model 500,
-- Neurotic Behaviour (original mix) - Psyche.
Q Favourite electronic artist?
A Gotta be Del.!
Q Electronic music, where next?
A The area : Mortons Castle
-- The source : supernes
Q Who is your music for?
A Ourselves




The.full.track.listing.for.Artificial.Intellegence


Polygon Window ~ The Dice Man
Telefone 529 ~ Musicology
Crystal ~ Autechre
The Clan ~ I.A.O
De-Orbit ~ Speedy J
Preminition ~ Musicology
Spiritual High ~ Up!
The Egg ~ Autechre
Fill 3 ~ Speedy J
Loving You Live ~ Dr Alex Peterson
Copyright ©1992 Warp Records (UK)


Return to ElseWhere
1st Page