---
Direct orders from:

weirdmusic@earthling.net

Tel/Fax: 61 7 3300 5352

Snailmail:
PO Box 314
The Gap, Brisbane
Australia 4061
---
Streaming Audio Samples
Now Here!
---
INSECTOID Album GROOVOLOGY OF THE METAVERSE available from WMS Records (The Weird Music Society).
INSECTOID are a progressive techno group from the East Coast of Australia. Their highly exotic, transcendental, dance floor stompers have been the esoteric, cosmic spice of international psychedelic parties all over the world. This cutting edge, idiosyncratic, mystical 'trance' music, which was previously only in the hands of a select few underground DJs on dat, and on a couple of limited edition releases (Psyharmonics & Kavator Records), now is presented as a sonic shamanic journey on the long awaited new album, GROOVOLOGY OF THE METAVERSE.
Last year INSECTOID got ferreted out of their Byron Bay bush studio, to be released on the ubiquitous 'Return To The Source - Sacred Sites' cd. Their song from this release was 'TRIBEDELIC NOMADS', which has been a huge hit at dance partys (both in door and out door) all over the world. The WMS album features a remix of this extremely Australiana track, plus some new tunes and a selection of earlier meta-groove gems, which span a period of four years. Avant garde psychedelic dance DJ/musician and occult scientist, RAY CASTLE, from NZ, conceived the band, after his extensive touring and projects in Japan, Europe and Goa India. Since his return downunder, as a base, the INSECTOID sessions came from his collaborations with Sydney techno musicians NICK SPACETREE and MARK TURNER. The group also have a host of insect collaborators, as Australia is home to some of the most outrageous, alien bug life, with their inherent other-worldly cyborganic frequencies.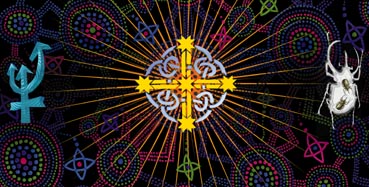 Other notable releases from RAY CASTLE have been:
Numinous Island -- Mantaray (Silent Records)
Sacramental -- Sonic Sufi (Psyharmonics)
Cosmic Trancer -- Masaray (Psyharmonics)
Dancing To The Sound Of The Sun -- Omniscient -- Insectoid (Psyharmonics)
Boyd In The Void comp -- Time Traveller -- Masaray (Flying Rhino)
Plasmatix Ep -- Rhythmystec (Matsuri)
Cathexis Ep -- Rhythmystec (Matsuri)
Beatz Work comp -- Exotic Matter -- Gold Ghost (Organarchy Sound Systems)
Sacred Sites -- Insectoid -- Tribedelic Nomands (Return To The Source)
The Web -- Insectoid -- Wizardry Of Oz cd (Transient)
The Groovology Of The Metaverse -- Insectoid -- cd (WMS Records)
Forthcoming releases:
Exotic Matter - Chiros (Psychedelic Krembo Part 3)
Exotic Matter - Chthonic Corpusle (WMS Records) Torrential Brain cd
Higher Spin States - Heinous Groove Gland (10 Kilo Tip Records)

GROOVOLOGY OF THE METAVERSE
INSECTIVOROUS ECTOMORPHISM OF THE MICRO MACRO TRANCE TWEAK AGE. ETHNOBOTANICAL BEATS CYBORGANIC CICADIAN RHYTHMS INTERGALACTIC GAIAN GROOVES. A PROMETHEAN QUEST TO LIBERATE MEANING FROM THE IMPRISONMENT OF IGNORANCE. THE FUTURE IS THE PRESENT LIBERATED FROM THE PAST.
ONTOLOGICAL ORGANARCHY OF EARTH MIND CREATIONISTS. UNITED SPACE COLLECTIVES WHICH SPIRITUALISE COMMUNAL SHARED CONSCIOUSNESS. PSYCHONAVIGATIONAL NEWSICAL NUANCES OF AN AQUARIAN AGE EQUITEK.
MENTASMIC MULTIDIMENSIONAL PORTALS OF NUMINOUS NEWSIC TRANSMOGRIFIED THRU THE DREAM STATE LOGIC OF CHIROS, TEMENOS, CHAKRIC CYBERDELICA. TWEAKERS OF WHOLISTIC HALLUCINOGENIC BEATFREAKERY USING THE RHYTHMYSTEC HIP-GNOSIS OF THE DIGITAL OCCULT. EAR-RATIONAL ANTIPODEAN TEKNOSIS NEUROTRANSMITTING PYROTECHNICAL PSYCHISM FOR RITUAL CATHARSIS. POT HEAD FLIPPING PIXIES IN TEA POT TAXIS, SONIC SHANKARS, MYSTICAL MANIACS, TRIBEDELIC NOMADS, HALE BOPPERS, ASTRAL-ALIENS, TRANSNEPTUNIAN ESCAPOLOGISTS, LUNAR CRITTER QUARK FARKERS, ANARCHITEQNOFERALS AND TECHNOSAUREANS OF THE TOTEMIC, MELD INTO THE ANIMA MUNDI OF THE UNIVERSAL MIND. AN EXOTIC AYURVEDIC ELIXIR OF GROOVOLOGY CHANNELLED BY A SYNERGISTIC CONGREGATION OF CREATIVE, TRANSPERSONAL, ALCHEMISTS. CYBER SHAMANIC, PSYCHOTROPIC SORCERY CATALYSING THE CAULDRON OF SEXAGESIMAL SILICON SURF INTO HOMEOPATHIC HARMONICS FOR THE T H C TRANS-ZEN-DANCE HEATHEN CULT. META-MUTATING GLOBAL INFORMATIONAL BEINGS MORPHING AN ANCIENT FUTURISM, REFLECTING THE EVOLUTION OF DIGITAL, DOOFADELIC, DANCE DHARMA. AYANAMSA SHUNYATA SATORI. A PHANTASMAGORIA WHIRLY GIG SAMADHI PROPELLED THRU PORTALS OF TIME AND SPACE, METABOLISING BODY-GROOVE-GESTALT. A DIGIDELIC AQUARIANA WHERE THE YANTRIC FUSES WITH AN EVOLVING ECOLOGY OF INTUITIVE CIRCUITRY CREATING AN AURAL ORACLE ABSTRACTASIA OF SACRED SONIC GEOMETRY.
EXISTENTIAL, EXPERIENTIAL, ELECKTRICKERY AWAKENING THE KUNDALINI RAINBOW SERPENT. RECONNECTION WITH A LOST EDENIC UNITY. COSMIC ORGASMIC BLISS STATES OF THE EJACULATORY PANGALACTICSPERMIA. CLITORIAL CLAIRSENTIENCE OF THE HEINOUS GROOVE GLAND GROUP MIND. ASTRAL ASCENSION GLIDING ON GALACTIC GATED WAVELENGTHS. PARADISIACAL MYTHOS COSMOLOGIES. A RETURN TO PRIMORDIAL INSTINCTUALITY THRU EXALTED STATE FREQUENCY FRENZIES ON AEONIC SOMNIFIC FLUX. THE MERCURIAL MAGIC OF TRIBEDELIC TRANCE TEKNO COMMUNION, HYPERSPATIALLY DISSOLVES BOUNDARIES, AS IT TAPS INTO THE INFINITE OBLIVION OF THE UNIVERSAL WEB,

WITH LOVE & ELECTRONS...


Metaray@futureweb.com.au
---