An information bomb is exploding in our midst, showering us with a shrapnel of images and drastically changing the way each of us perceives and acts upon our private world. In shifting from a Second Wave to a Third Wave info-sphere, we are transforming our own psyches. -- Alvin Toffler

Due to their enviroment they understood. Due to Mojo and the Windy City they had the raw materials. Due to having become techno rebels they had to take action.
Then they translated, innovated, spread.
Spread the message by means of the Third Wave. A means that has become known as (Detroit) Techno.



| | | |
| --- | --- | --- |
| | | Music is a highly advanced means of communicatin capable of transmitting crucial cultural, social and political forces. |
| | | Possibilties of message transmission through tonal means of communication. |
| | | A guided tour through the decaying Area One, downtown Detroit. |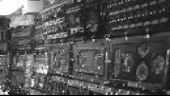 f-dpart@hyperreal.org