The more basic political question...is not who controls the last days of industrial society but who shapes the new civilization rapidly rising to replace it. While short range political skirmishes exhaust our energy and attention, a far more profound battle is is already taking place beneath the surface. On one side are the partisans of the industrial past; on the other, growing millions who recognize that the most urgent problems of the world - food, energy, arms control, population, poverty, resources, ecology, climate, the problems of the aged, the breakdown of urban community, the need for productive, rewarding work - can no longer be resolved within the framework of the industrial past. -- Alvin Toffler

Music, repetitive electronic music, is more than a complex interplay of soundwaves.
It is a tool designed for the construction of the future.
However, it primarily is a means of communication; rhythmic coded tonal knowledge.
Music is visible [and we do NOT talk about the use of DRUGS]. Synesthasia. A means of communication simultaniously transmitting visuals and sounds, thus creating atmosphere.

An atmosphere - although very personal in its expression - that draws an abstract picture of a Third Wave civilization. Something with a much deeper impact on our minds, an image far beyond the possibilities of human perception - THE FUTURE!


| | | |
| --- | --- | --- |
| | | Soundwaves on paper. |
| | | Anarchitecture. Architechture is a political act! Lebbeus Woods' experimental architecture, construction of humanity. |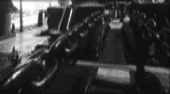 f-dpart@hyperreal.org