enoweb

biblio
graphy

: reading matters :
"A Year with swollen appendices", by Brian Eno
(Faber and Faber 1996) ISBN 0-571-17995-9. Brian Eno's diary of 1995, written on pretty much every day of the year (with a couple of days barred using the ambiguous phrase "no entry"). Brian made the decision to censor very little, so the book gives readers access to many areas of his life previously kept private, from time out with the family to the music-making process; the trivial and footling runs alongside the Big Issues. The appendices are a collection of articles, essays, letters and fiction, and these pages were printed on different colour paper (pink) for the first edition. If you've ever wondered what Brian is "really like", read this book.
"Brian Eno Journal - Une Année aux Appendices Gonflés", par Brian Eno, traduit par Jean-Paul Mourlon
(Le Serpent A Plumes 1998) ISBN 2-84261-092-X. Brian Eno's diary, translated into French. This edition includes a 6-track CD of previously unreleased pieces mentioned in the text.
"Brian Eno: His Music and the Vertical Color of Sound", by Eric Tamm
(Faber and Faber 1989) ISBN 0-571-12958-7; (Updated version published by Da Capo Press 1995) ISBN 0-306-80649-5. Lengthy critical work covering Eno's ideas and music; includes discography and bibliography. No Eno fan should be without. Now available as a FREE downloadable Zip file from Eric's web pages here.
"More Dark Than Shark" by Brian Eno and Russell Mills, with commentaries by Rick Poynor (Faber and Faber 1986) ISBN 0-571-13883-7.
Beautifully designed collection of lyrics and interpretative paintings, with discography and critical essays. No Eno fan should be without this one either -- but it has been out of print for years.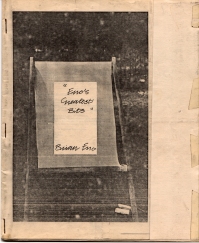 Eno's Greatest Bits
A photocopied collection of lyrics, photographs and excerpts from interviews with Brian. EnoWeb suspects these lyrics were the foundation on which More Dark Than Shark was built. This publication may have been produced by Enovations, the Eno Fan Club that existed at the time. It was also offered as an incentive for donations by a US public radio station during 1980.
"New Sounds: the Virgin Guide to New Music" by John Schaeffer
(Virgin 1987, UK) ISBN 0-86369-375-X. Previously published in USA as "New Sounds". An unfortunately Americo-centric survey of new music, with annotated discographies; Eno is cited on numerous occasions.
"Brian Eno" by R. Bertoncelli
(Arcana Editrice, Milano, Italy, 1982)
"Brian Eno. Strategie oblique" by F. Destefani & F. Massoni
(Gammalibri, Milano, Italy, 1983)
"Robert Fripp: from King Crimson to Guitar Craft" by Eric Tamm
(Faber & Faber, Boston & London, 1990 ISBN 0-571-12912-9) includes a short chapter (1 page) on Fripp & Eno.
"Ocean Of Sound" by David Toop
(Serpent's Tail, 1995) ISBN 1-85242-382-X. Subtitled Aether Talk, Ambient Sound and Imaginary Worlds, David Toop's book dreamily traces the development of ambient music, and features remembraces of -- and words from -- Brian, Kraftwerk, Aphex Twin, Ryuichi Sakamoto and many, many more! A double CD with the same title is available separately.
"We Love You" by The @mbassadors
(Booth-Clibborn Editions, 1998) ISBN 1-86154-088-4. This is a book and CD, but these people would have you call it a "Futique" for no adequately explored reason (possibly a hilarious play-on-words like "futile" and "clique"?) They brought together musicians and artists for a set of collaborations. Brian provides a musical track called "Sensual Zero Gravity" with added words and noises by Marc Quinn. The track is an extended version of "Coasters" from The Drop. The book is hard cover, but definitely limp.
"Ray Gun: Out of Control"
(Booth-Clibborn Editions) ISBN 1-86154-040-X. A collection of stuff from 3 Califirnian magazines; Brian makes some sort of contribution. At £35 the EnoWeb isn't rushing to find out what.
"Incarnate: Marc Quinn"
(Booth-Clibborn Editions) ISBN 1-86154-048-5. An overview of the artist Marc Quinn's output (blood, mainly). Includes a transcript of a conversation between Brian and Marc. The EnoWeb imagines this would be along the following lines:
BRIAN: Y'know, I was looking at some ground coriander as I was cooking, actually, and it has this most amazing sheen, like tiny brown stars almost...
MARC: Blood! Blood! Blood!
BRIAN: And it struck me that television soap operas have taken over from art schools, really, in the way that, 25 or so years ago, if you wanted to start a band, you went to art college first, that was the way we all did it, as we did with Roxy Music, but now if you want a pop career you get a role acting in a soap for a few years, and then you branch out as a musician.
MARC: Blood! BLOOD!
BRIAN: But the thing you notice is that all the ex-soap stars sing the same kind of songs, in just the same way that all the soaps have the same story-lines, actually...
MARC: My book costs almost fifty quid.
BRIAN: Bloody hell!
"Brian Eno:Zaobilazne strategije" ["Brian Eno: Oblique Strategies"]
A collection of Eno's interviews from 1973-1984 including a very long interview that Eno gave to the authors of the book, in Paris, on January 2nd 1984. As an appendix to the interview there is a questionnaire about Eno's favourite books, musicians, movies and similar stuff. There is only a Serbian version in the book. [Thanks to Srdjan Djuric for this information]
Milena Gordic adds: Hi from Belgrade! It was a very nice surprise to find out that you know about the book "Zaobilazne strategije" which was published in Belgrade in 1986, but please do not underestimate the effort of authors and please show their names: Slobodan Cicmil and Goran Vejvoda. The book is originally published in Belgrade, YU ISBN 86-7339-003-8. I hope that you will provide the right information and keep the excellent level of your site even in this detail. Thank you!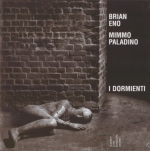 I Dormienti
Massimo & Francesca Menotti write: On November 16th 2000 we read about a book by Brian Eno and Mimmo Paladino titledI dormienti in an Italian music magazine. Today, after exactly four months of enduring searching, we've finally got that book! These are the credits:
Brian Eno/Mimmo Paladino
I dormienti
Edited by Demetrio Paparoni
Alberico Cetti Serbelloni Editore 2000, Milano, Italy
ISBN 88-88098-00-3
Edition of 2000
Price 67,14 Euro - 70,00 US$
The book is in a boxed luxury edition, with b/w and color photographs by Peppe Avallone of the Roundhouse exhibition and some sketches by Mimmo Paladino and Brian Eno. The text is both in Italian and in English. The compact disc includes the same track as the 1999 Opal Music edition, but with a different label.
Quote from the last page: "This book is printed in an edition of 2000 by Alberico Cetti Serbelloni Editore in Milan. It contains a CD of music composed specifically by Brian Eno to accompany I dormienti, The Sleepers, an exhibition of work by Mimmo Paladino and Brian Eno shown in the Undercroft of London's Roundhouse. 100 copies of this book are in a special edition accompanied by an aquatint etching with drypoint and presented in a fired terracotta case, both designed by Mimmo Paladino."
EnoWeb adds: Very heavy book.
Image provided by radiocitizen.

"Zeitgeist" by Bruce Sterling
Gordon Osse writes: Here's a reference to Eno in a book I'm reading (which I recommend):
"Hear anything from Eno lately?" Starlitz prodded.
"I know him back in Roxy Music," Makoto said by reflex. "I know Brian Eno when he wear makeup and feathers."
"D'you read his new book? The one about a year in the 1990s?"
"Professor Eno very good writer," Makoto admitted sourly. He rolled his tongue inside his mouth and slowly emitted a quote. "'Not doing the thing that nobody had ever thought of not doing.'"
Starlitz pondered this remark. Not many Europeans could have written that sentence. "Eno is heavy, man."
"I keep diary for year 1999 now, 'Oblique Strategy.'" Makoto looked up, stirring the noodle pot languidly.... [pp. 196-197]

Kraftwerk - I Was A Robot by Wolfgang Flür [ UK edition published by Sanctuary Publishing Limited; ISBN: 1-86074-320-X ]
Girls! Girls! Girls! all the way as Kraftwerk's one-time drummer traces his life from humanity to android and back again. Poor Wolfgang is prevented from telling the full story by legal action. We mention the book here for the quote from Christa Fast, the widow of Conny Plank:
"Brian Eno was completely different [EnoWeb: from the embedded image/attitude of Kraftwerk]. He was capable of behaving quite normally in private with Conny, Moebius, Roedelius and Devo when he was working here in the studio, and yet he instantly became the cult figure as soon as a journalist turned up. It was fascinating, witnessing the switch. For him, it was part of his job to play this game, but his personality remained unaffected, uncontaminated by the image that he presented to the media world..."

Rockers, Jazzbos & Visionaries by Bill Milkowski
Published by Billboard Books, this is a collection of interviews; Brian is one of the Visionary interviewees.

The Book of Inspirations
David Cooper Orton writes: Having just returned from holiday in Cornwall (whilst in St Ives I found a copy of the Fourth Door Review which was a pleasant co-incidence) I've been working my way through several weeks of New Scientist back-copies which have accumulated on my desk. The August 19th edition (p49) mentions The Book of Inspirations, published by The Institute for Social Inventions, and with (apparently) an enthusiastic introduction by Brian. Not finding it listed at amazon.co.uk, further investigation reveals that it seems to be available only as part of a £15 subscription, which includes a: "book-length Annual in July/Aug each year. The annual until July 15th 2001 is called 'The Book of Inspirations - A directory of Social Inventions'. 320 pages. The musician and writer Brian Eno writes: 'Civilisation is embodied social imagination. This is a book about it'."
Cornucopia of Ideas
A compendium of ideas collected by the Global Ideas Bank -- everything from what to do with medication reaching its use-by date to moving the Earth... from following another religion for one day each year to repairing coral reefs with eco-friendly concrete balls... Brian contributes a preface paying tribute to Nicholas Albery, the founder of the Institute of Social Inventions who died in 02001. His preface also highlights the potential impact of "the more modest ideas that turn out to make a big difference." ISBN 0 948826 58 4. More information and ordering at www.globalideasbank.org. Look out also for Seize The Day -- 366 Tips for Living which has a foreword from Brian.
Want more bed-time reading?
Take a look at our on-line interviews & articles archive.