NEWS UPDATE: 8TH MAY 2019
Thanks to Dario, Rory, Martina, Richard, Samantha, Tony, and EnoWeb's own newsbot Tom Boon in no particular order for these news items.
Fly me to the Moon! And let me eat lots of Mars Bars! Thus sang Brian Eno in 1983 when he released his record Apollo: Atmospheres and Soundtracks, secure in the knowledge that the album would prove to be one of the most popular of his career. Unfortunately EnoWeb can't prove that's true, but it definitely is a record that is close to EnoWeb's heart, as we bought it as consolation after failing our A Level exams rather catastrophically. Fast-forward 36 years, and Brian has decided to take the old jalopy out for another spin among the stars. He'll take the path to Jupiter, and maybe very soon, he'll cruise along the Milky Way, and land upon the Moon.
On 19th July an expanded version of Apollo will be released to mark the 50th Anniversary of the Moon Landings. Alongside the original Apollo album remastered by Abbey Road's Miles Showell will be a new vinyl disc/CD/assemblage of audio data called For All Mankind – not the film, but eleven new instrumental compositions by Daniel Lanois, Roger Eno and Brian Eno, with Brian producing, co-writing and contributing to all the tracks:
'The End Of A Thin Cord' (4:08) – Brian Eno
'Capsule' (3:13) – Daniel Lanois
'At The Foot Of A Ladder' (3:35) – Brian Eno
'Waking Up' (2:29) – Roger Eno
'Clear Desert Night' (3:11) – Brian Eno
'Over The Canaries' (4:41) – Brian Eno
'Last Step From The Surface' (3:58) – Daniel Lanois
'Fine-grained' (3:34) – Daniel Lanois
'Under The Moon' (3:10) – Roger Eno
'Strange Quiet' (4:09) – Roger Eno
'Like I Was A Spectator' (4:23) – Brian Eno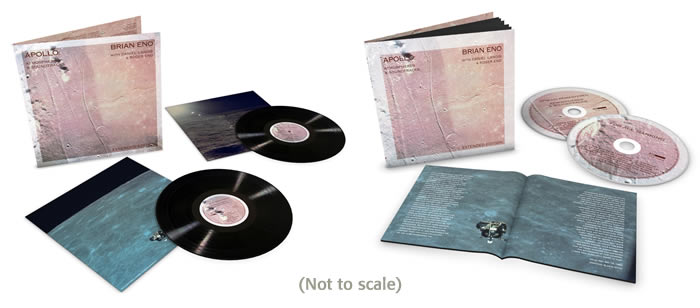 As was fashionable in the era known by the Tortoises as the last days of the Human Race, the album would be released in a variety of delivery formats – some of which may still be found in the fossil layer:
2LP 180gram vinyl in a gatefold sleeve
Limited numbered 2CD edition with 24-page full colour hardcover book (note: the first 250 orders of vinyl and limited edition 2CD from EnoShop and uDiscover will include an A2 Apollo poster)
Standard 2CD edition
Special digital edition with exclusive cover art
Standard digital edition
We're so sorry, readers, we're not sure why Mustard The Tortoise wrote that last bit, though we know that he is a bit narked by the cold weather at the moment so that might account for his dark mood.
Mustard: Tortoises got to the Moon first.
---
Other than that, newsworthy Eno items over these past few months have been pretty thin gruel. Let's see...
On 14th May Brian will be in conversation with Srećko Horvat in London.
---
At the end of March, Juliet Jaques interviewed Brian for Suite 212 on Resonance FM.
---
Also at the end of March, Roxy Music was duly inducted into the Rock and Roll Hall of Fame. Brian couldn't attend because he's given up flying for a year, which for no apparent reason reminded EnoWeb of Hotblack Desiato's decision to spend a year dead for tax purposes (© Douglas Adams).
---
Brian has written the introduction for a monograph of Beezy Bailey's art.
---
Brian has made some kind of contribution to the first Wavepaths space in London, though its website isn't exactly forthcoming with information about exactly what... and with a minimum price of £40 for an hour's introductory "journey", EnoWeb is unlikely to be forthcoming either.
Mustard: Well, that's just typical negativity. No wonder your lot died out.
---
Paul Stolper has some new lenticular artworks by Brian.
---
Brian has been working on the soundtrack for series 3 of Top Boy, revived by Drake for Netflix.
---
Look and Learn.
---
A 1979 portrait of Brian by Shigeo Anzai.
Mustard: He always did like a kimono.
---
Old stuff: Dublab is running some archive interviews conducted by Carl Stone, and NPR's Fresh Air dug out an archive interview to tie in with Roxy's RARHOF induction.