---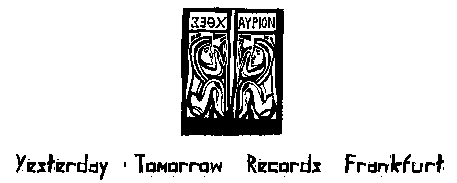 | | | | |
| --- | --- | --- | --- |
| Code | Title | Release Date | Music by |
| Y/T 1 | Passion | December 1993 | Peter Kuhlmann/Juergen Rehberg |
| Y/T 2 | Wandering Soul | 5 May 1994 | Peter Kuhlmann/Alban Gerhordt |
| Y/T 3 | The Sunken Road | 5 July 1995 | Peter Kuhlmann/Jurgen Rehberg, Lucia Merise |
Yesterday/Tomorrow Records is a label dedicated to the classical side of ambient and the ambient side of classical music. With this label, we try to connect the old music with the future of music. Basically our aim is to show that ambient is not only a new music born from the techno culture of our days but more a sound which was there from the beginning. Ambient, as it has its roots in the natural environment we are living in, exists in its basic form since several million years. The composer of the soundtrack was nature.
Classical music developed after the third of the 19th century into a music with strict rules - even when the rule was no rule - with pure theoretic approach. A bit too far from the nature of 99 per cent of mankind and besides the interest of some science oriented listeners not very popular. On the classical side the late 19th century is our starting point. This was the time where all the experiences of the centuries before were used to create an impressionistic sound. Experiences and feelings had been transformed into music and bent the chains of musical laws which were very strict before this time had started.
What we will do is to start musically at this point of musical history. The music at that time had one main vivid aspect: that whatever is useful to transport the desired feelings to the listener is also allowed. With the knowledge and technology of our time we are able to create sounds the composers of this time were dreaming of. We will take this chance and give the music of tomorrow to our listeners. All the releases on Yesterday/Tomorrow will be created by a classical musician in cooperation with an ambient musician. The ambient audience will be introduced to a new sound of their music with a classical approach. We want to show the audience of classical music that with ambient there is a new music going on which is made by composers of our time who have their roots in yesterday's classical music and in the timeless music of ambient to create the sound of tomorrow.
updated 22 February 2005