NEWS UPDATE: 24TH JANUARY 2019
Thanks to Dario, Rory, Martina, Sanne, Richard, Mikkel, Thomas, and EnoWeb's own newsbot Tom Boon in no particular order for these news items.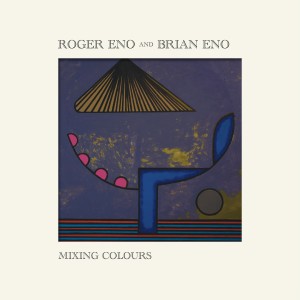 Mixing Colours, a new album of music by Roger Eno and Brian Eno, will be released worldwide on 20th March on the Deutsche Grammophon label. The musicians followed the same way of working as on 2002's EnoShop release, 18 Keyboard Studies by Hans Friedrich Micheelsen: Roger recorded individual pieces using a MIDI keyboard, and then sent the MIDI files to Brian to manipulate.
"We weren't directing this towards an end result," Roger says. "It was like a back-and-forth conversation we were having over a 15-year period. I'd wake up, go straight upstairs, put my equipment on and improvise, then I sent things to Brian that I thought he might be interested in. The idea for a full album emerged as the number of pieces kept increasing and the results kept being interesting. It's something that neither of us could have arrived at alone ... The more you listen to this album, particularly with the fabulous worlds that Brian has created, you can really walk into its enormous landscape and stay."
Brian says: "With classical instruments the clarinet represents a little island of sound, the viola another, and the grand piano yet another. Each instrument is a finite set of sonic possibilities, one island in the limitless ocean of all the possible sounds that you could make. What's happened with electronics is that all the spaces in between those islands are being explored, yielding new sounds that have never previously existed. It has been a huge pleasure for me to explore that ocean with Roger's unique compositions."
The track titles invoke colours and textures, matching the album's deep meditation on shifting tonal shades and contrasts in timbre:
Spring Frost
Burnt Umber
Celeste
Wintergreen
Obsidian
Blonde
Dark Sienna
Verdigris
Snow
Rose Quartz
Quicksilver
Ultramarine
Iris
Cinnabar
Desert Sand
Deep Saffron
Cerulean Blue
Slow Movement: Sand
The album artwork features abstract paintings by Dom Theobald, including a piece that Roger gave Brian.
Bonus points trivia: This is a homecoming of sorts for Brian: his first LP appearance was on Deutsche Grammophon as part of the anonymous chorus performing Paragraphs on Cornelius Cardew's The Great Learning in 1971.
---
APPEARANCES
Brian will manifest himself both physically and virtually during the coming months.
Not necessarily an appearance – the website doesn't say – but Brian has proposed a Vision Makers initiative for Campfire Convention, with the chance to share new ideas during its Winter Gathering.
---
ENO SELLS OUT
In November 2016, Brian Eno, Laurie Anderson and Ebe Oke met in cold, rainy Copenhagen for Dokument #2, for a week of improvisation using computers, guitars, organ, drums, violin, paper, elastic, and apparently neoprene hammers as well to round it all off. 10 hours of recordings were boiled down to 11 tracks running at just over 40 minutes, pressed on Nordsø Records in a limited edition of 500 numbered 180 gram vinyl Dokument #2 records. UK pre-orders from Rough Trade have sold out although it's possible some Rough Trade branches and shops in Denmark may still have copies.
---
VOICES FROM THE PAST – 39 YEARS ON
Over on the Brian Eno Before And After Ambient Facebook Group, Thomas O'Neill wrote: "Being a major fan of Eno's recorded work as of spring 1981, I got wind that he was going to be doing a radio interview with host Lynn Samuels on WBAI, an NYC independent radio station. I managed to get the whole thing (with minor gap for reel change near the end) onto 7-1⁄2 ips IPS reel to reel tapes (!). I haven't re-listened to them in decades. I have to pull my old Revox out of the closet, bake the tapes, and transfer them to digital ... I'm pretty sure I have the only existing copy of this interview. Now you have it too, digitized and cleaned up. It's a snapshot of where Eno was at around the time after Remain In Light and My Life In The Bush Of Ghosts. Later in the program he indicates he had started work on what would eventually be released as On Land. Note: At an hour and 38 minutes in, there is a short gap. It was at this point that the tape ran out and I had to switch to another reel. At the end of the interview, Lynn Samuels played a record that had just arrived at the station, she opened it up for the first time and played it. Laurie Anderson's 7" single on 110 Records, Walk The Dog / Oh Superman. This may have been the first time it was played on any radio station."
---
MISCELLANEOUS LINKS
The Gift's Instagram account posted "a recording of one of the most beautiful memories in our life" in Brian's studio, Tony Visconti talked about Subterraneans, and Faber will republish Michael Bracewell's book Remake/Remodel.