News update: 11TH APRIL 2018
Thanks to Ray, Dario, Rory, Richard and EnoWeb's own newsbot Tom Boon in no particular order for these news items.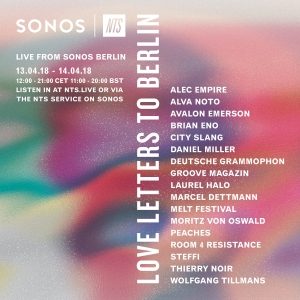 Brian will be DJ For A Day (or an hour, at any rate) on Saturday 14th April. He's taking part in Love Letters To Berlin for German radio station NTS and SONOS from 20:00 to 21:00 CET. Apparently his poptastic line-up will include work with David Bowie and an extract from his recent Berlin-based Empty Formalism installation. The show will be available to stream online on the NTS site afterwards.
---
Brian has written an op-ed for The Guardian on Proportional Representation.
---
A new book called It's Basic Income has a contribution from Brian. Not a monetary contribution, a contribution in the sense of a piece of his book-learnin'.
---
Phil Manzanera has uploaded a jam called "The Unknown Zone" recorded in the early 2000s, featuring him, Robert Wyatt and Brian.
---
Brian is one of the artists represented by Paul Stolper at ART COLOGNE, Booth C-030 Hall 11.2, from 19th to 22nd April 2018.
---
Rough Trade has a page for the Record Store Day 12" featuring Brian and Kevin Shields.