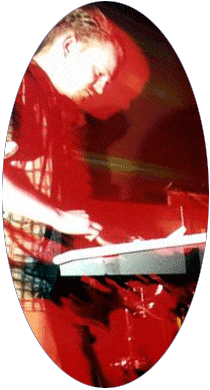 ~ rather interesting ~
:: rough information ::
Being involved in various activities ranging from design to music, the Frankfurt based mastermind Atom Heart finaly opened up his own audio playground called "Rather Interesting." With an output of one full length CD a month and very strong and unique concepts concerning music and design, Rather Interesting released it's first CD called "Flextone" September 1994. The CD as well as the following releases plus the two double vinyl re-releases of "Flextone" and "VSVN" all together established a new platform for Atom Heart's visionary soundsculptures. The aim of Rather Interesting is the expansion of the boundrieas of technolological sound which means expanding the realm of electronic music. From the house oriented tunes of Flextone via the abstract calm fields of "Dots" to psychedelic compositions on "VSVN" or "Datacide," "R.I." is developing a new language of electronic music. Besides Atom Hearts's solo productions, various collaborations such as "Datacide - Flowerhead" or the "Masters of Psychedelic Ambiance - MU" both together with another visionary artist, Tetsu Inoue, were presented on "R.I." Further collaborations are planned as well the label compilation REAL INTELLIGENCE, which will contaion tracks from the first 10 Rather Interesting releases plus bonus titles. With every upcoming release, Rather Interesting wants to step forward by featuring the unexpected.
---
updated 21 October 2002

MACOS - Atom Heart is a member of Musicians Against Copyright of Samples.
---
Many thanks to Wally helping me with some of the scanning.
Please feel free to send any questions, comments or suggestions to me and thanks for stopping by!

 / /  /  /  /   /       will @ squidco . com
(_/__/  /  (__ (__      http://www.squidco.com/will/